Quantum Science and Quantum Conscience:
Your Holodeck 'Brain Field'
Your 'holodeck' is a unified field of energy between your ears; from upper brain (crown chakra) to lower brain (reptilian brain), from left brain (linear logic) to right brain (intuitive knowing), and from forebrain (foresight) to rear-brain (hindsight). Consider how man is a microcosm of the universe with the 'kingdom of heaven within us'; there are hundreds of billions of neurons and synaptic connections in your brain just as there are hundreds of billions of star systems in our Milky Way Galaxy.
Billions of neurons in your brain provide a 'conscious field'
- a physical platform for consciousness -
just as billions of stars in our Milky Way Galaxy provide
a quantum platform for Cosmic Conscience.

Billions of stars like our Sun are dimensional transformers
for quantum co-Creation with Universe, just as billions of
atoms within each brain cell are miniature solar systems
that are likewise in quantum co-Creation with Universe.
<![if !vml]>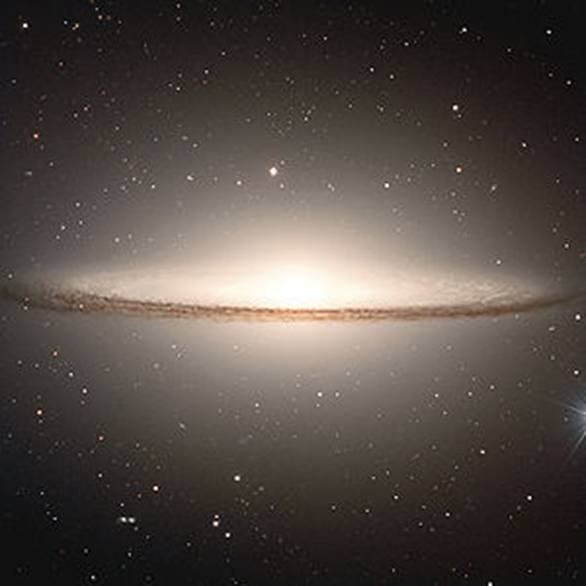 <![endif]>
Photograph of another galaxy, depicting what our Milky Way Galaxy actually
looks like from the side (Galactic Plane and Photon Belt) with the alignment of
hundreds of billions of star systems with the Great Central Sun of our Galaxy.
Note that our solar system has a 'Great Central Sun' just as every atom
is a miniature solar system with a nucleus and orbiting particles.
Our galactic platform for human co-Creation
This 'unified field' of quantum reality connects both the
atoms in your brain cells with the stars in our galaxy
and the galaxies of universe... worlds without end.
The order of the universe is holographic
as perceived in the 'holodeck'
between your ears.
The aligned star systems in the Galactic Plane are a holographic model of the brain's holodeck as a "Unified Source Field" (Cosmic Conscience) that is now surging in the collective consciousness of global humanity. We are all adjusting to this surge of higher frequencies in Earth's quantum grids, including our DNA and 'brain holodeck.
The <![if !vml]>

<![endif]><![if !vml]>

<![endif]><![if !vml]>

<![endif]><![if !vml]>

<![endif]> Model, archetypal 'Universal Law Language',
is the same Source Code for different names of The Field:

۞ "The Matrix" ~ Max Planck, Father of Quantum Physics;
۞ "Quantum Holodeck" ~ aka The Holographic Universe;
۞ "Source Field" ~ David Wilcock, see his video HERE;
۞ "Mind of God" ~ Stephen Hawking, Astrophysicist;
۞ "Nature's Mind" ~ Edgar Mitchell, Astronaut.
Gregg Braden calls it 'The Divine Matrix', and the intelligence
he brings to this subject is exceptional in this presentation:
Study this video if you want to understand 'The Field'
and our 'divine destiny' as Co-Creation with the
heart and mind of G.O.D.~<![if !vml]>

<![endif]><![if !vml]>

<![endif]><![if !vml]>

<![endif]><![if !vml]>

<![endif]>~Source.
The 'dreaming' of quantum reality is mirrored in your
DNA, Consciousness and Morphic Grids of Earth
The waking 'dream' that we call 'reality' is increasingly being mirrored by the unified field of Cosmic Conscience, reflecting and perfecting awareness of, by and for the role and goal of conscious evolutionary ascent: culturing a wholly new 'Common Sense' as "Unity-in-Diversity" (E. Pluribus Unum), that U.S. Founders conceived and the Constitution of Conscience achieves.

Compared to this unified field of non-linear, non-local "non-duality" (Unity Conscience), our current 'reality dreaming' is little more than sleeping. And yet, the awakening of quantum reality with Effective Sensory Perception in our global social networks will naturally neutralize 'DUH', upgrade global civility, and explore the universe.
We are in the universe and the universe is within us...
As above, so below… as within, so with all.