Kathleen Sebelius wants you to be separated from
your children if you refuse to get "vaccinated"
July 16, 2021 / naturalnews.com
The former head of the Department of Health & Human Services (HHS) under Barack Hussein Obama is pushing the narrative that parents who refuse Wuhan coronavirus 'vaccines' should be forcibly separated from their children and denied employment. Do you see where this is going?
Dr. David Martin Just Ended Covid, Fauci,
DOJ and Politicians - Stew Peters Show
(MUST WATCH - Video of the Week! ~CR)


July 20, 2021 / Red Voice Media
Stew Peters with Dr. David Martin in a historical
interview with inarguable truth-based exposure
that may well be an end to the COVID narrative.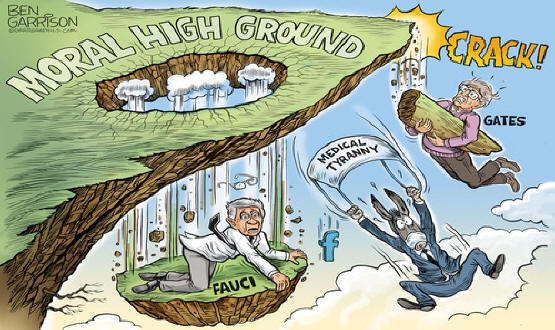 Pharmacidal Free-Fall is Imminent
No one wants to believe that the medical-industrial complex is 'making a killing' on the creation and treatment of disease... and with an unabashed eugenics agenda that justifies 'collateral damage' (mass dying) for the 'common good'...while seeding pathologies in our bodies for a lifetime of symptom treatment by the high priests of medicine with their drug-vax sacraments.

This pathological medical 'BS' (Belief System) - that toxic pharmaceuticals equate with optimal health - has devolved to medical tyranny with false-flag bio-terrorism that is incessantly hyped via media fear porn... and 'masks' with two-faced, fork-tongued words of benevolent care for our 'bio-security'.
There's no big $'s to be made by preventing disease. That's the way it's supposed to be - as was throughout history - until Rockefeller parlayed his petrochemical wealth (Big Oil) into petrochemical pharmaceuticals (Big Pharma), and lobbied legislation that made allopathic drugs-per-symtom medicine the official 'community standard medicine' managed by privatized Big Pharma front groups: FDA, CDC, etc.
Public health care used to be a non-profit service. The common sense was that profiting from someone's disease was unethical. But the Rockefeller medical monopoly took over. "Stockholder interests come before the public's interest when profits were are stake." ~ Corporate Law.
Note: Global TeLeCare is what non-profit
holistic Aquarian self care looks like.
Pfizer's former chief scientist for allergy and infectious diseases, Dr. Michael Yeadon, minced no words, saying everything officially reported about flu/covid is
"a pack of lies."
Phizer had to let him go for being outspoken with a conscience.
The Family of Mankind is waking up in a global village of medical tyranny under a cabal of corporate potentates. Big Pharma, Big Media, Big Tech and Big Banks have hijacked the levers of global power for ownership and absolute control of the physical and human resources of Earth... absolutely corrupting constitutional principles with mass surveillance, blatant censorship, abject propaganda and mass murder.

This is a global battle for freedom
and opportunity above all.
The incessant pharmacidal push for mass vaccination is medical martial law tyranny - breaching the Nuremberg Code, other international law, the US Constitution, and core medical ethics - for an emergency that was created in our minds via Big Media fearmongering.

Remember how lockstep corporate media created panic with over-reported Covid deaths via bogus PCR tests and pay-off to hospitals for reporting deaths from prior conditions as being 'with Covid'?

Are you aware that the same pharmacidal media is now under-reporting deaths and injuries from the jab, attributing these side-effects to the breakout of virus 'variants'?
Welcome to the Pharmacidal
Virus Industrial Complex!
This interlocking set of corporations are stealing our tax dollars, and leveraging them to pull our strings, using scientists, academics and nonprofit organizations as pawns to shape public opinion. Don't be fooled by their image of respectability, this is the real domestic terrorism.
Patent document shows that DARPA built Covid
with the help of Bill Gates & W.H.O.
July 5, 2021 / Natural News
A patent has emerged to show that the Wuhan virus
(Covid-19) was hatched nearly two years prior to its
public release, proving that it didn't randomly appear
in bats at a wet market. So who is the bad guy now
when 'they' lie to us... over and over... incessantly?
Note: 'they' is the UN's W.H.O. which is funded by
China and Gates.

W.H.O. Whistleblower Connects the Dots
July 22, 2021 / thehighwire.com
Former ethics researcher at the W.H.O., Astrid Stuckelburger, PhD, sheds light behind-the-scenes on our top world health agency, their conflicts of interest, and who's really been pulling the strings in the Covid19 Plandemic.
Since the 'official numbers' are about 3 months behind - and only about 1% of unreported numbers -
we can see how more than a million Americans have already been pharmacided. And European numbers are even higher.
"The worst crimes against humanity
every committed."


July 15, 2021 / Dr. Reiner Fuellmich
This is worse than the WWII holocaust and WWI
massacre. Core public institutions are now being
railroaded with an unabashed eugenics agenda.
Corporatism is the merger of government with corporate interests for profit and control. We're now seeing the same rise of 'corporatocracy' (fascism) that led to the rise of Hitler.
But a critical mass of enlightened global Netizens are waking up, wising up and rising up to challenge the pharmacidal plot out of hell that would enslave humanity.

Are we finally at the
'Great Awakening'
Turning Point?
<![if !vml]>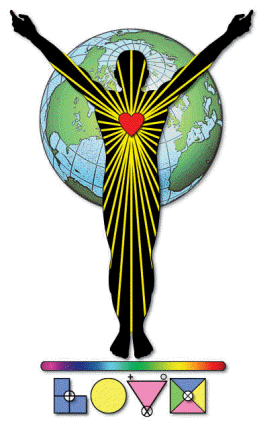 <![endif]>
Full Spectrum (5D) TLC
with pure geometry thoughtforms
(G.O.D.~<![if !vml]>

<![endif]><![if !vml]>

<![endif]><![if !vml]>

<![endif]><![if !vml]>

<![endif]> Constitution),
for Effective Sensory Perception
via enlightened TeLeCommunion:
TeLeComm for TeLeCommunity,
TeLeConscience, TeLeCare and
NEXT TeLeCommerce

economy.

Meta Empowers Us to Have Faith
in Miracles to Change the World


July 21, 2021 / HeartsCenter.org

Lady master Meta comes to infuse us with a special concoction of divine light and to speak on miracles. She says it is essential that we believe in miracles in order to experience miracles in our lives. Meta urges us to command miracles - divine manifestations - with the virtue of expectation and anticipation - faith - as the spirit that matters for manifestation. If we believe in heaven then all of the angelic beings of light will distribute the specifics of what God gives us in the moment of the miracle manifesting. During the HeartStream Meta commanded the angels of the sacred fire to deposit the Miracle Matrix of the Light of Maximus in our hearts so that we can use these seeds to transform the earth every day, and then we will see miracles occurring in our lives.
Join heartfriends around the world in Aquarian prayer and meditation, services, conferences, pilgrimages, and Meru University spiritual courses.

~~~~~~~~~

Optimize your body-mind-spirit health
while supporting this free publication: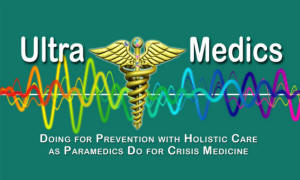 www.UltraMedServices.com
Advanced bioenergy modalities
for optimal holistic health