Or as Terrence McKenna says, "...the rate of change is happening faster and faster and arriving soon at a point - an epoch of arrival in time - where it becomes itself the most overwhelming phenomena in the world of three dimensional space and time, and I call this the Omega Point" (O-point).

"With the emergence of the global Internet, a human population of several billion, and an electronic noosphere, we are now within the shadow of this transcendental object (event) at the end of time. Our religions sense it. That's what gives them their apocalyptic intuitions,
and I think the ordinary man and woman in the street sense a kind of built in acceleration of time itself.
"Time is speeding Up, human beings are part of that process,
and the culmination of that process is now...
I believe it will happen in 2012,
in December...
coincident with the same event that
the Maya placed at the end
of their calendar."
(Solstice, Dec. 21st)
The larger context of McKenna's Omega Point is the larger 25,800 year cycle of Galactic Shift from Alpha to Omega, (materialism to spiritualism) that has demonstrated a Great Cycle like a giant sine wave curve now peaking with alignment and energetic surge as our Solar System cycles across the galactic plane of our Milky Way Galaxy.
<![if !vml]>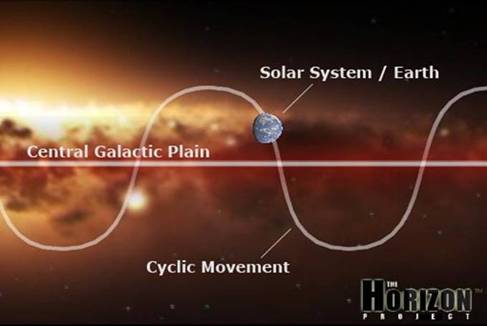 <![endif]>
See a 2-min. computer-animated video of this
'Precessional Great Cycle' HERE.
This is the 'process' of the 'procession' that is
systemically effecting ALL of us now.
We are in the quantum energy of the Universe
and the Universe is in us; it resonates in our
DNA and morphs one's brain "holodeck"
(holographic field) between the ears
and centered behind the eyes;
the pineal gland '3rd eye'.
<![if !vml]>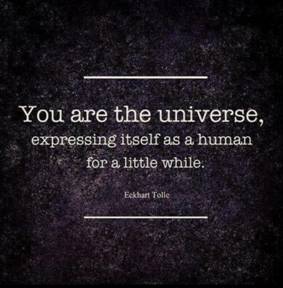 <![endif]>
As above, so below. It's ALL connected.
As our Solar System comes into full alignment
with the Photon Belt of the Galactic Plane,
the concentrated light of billions of star
systems in our Milky Way Galaxy...

<![if !vml]>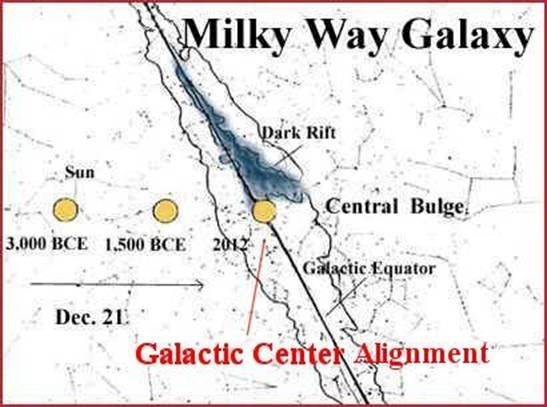 <![endif]>
… is surging the Power of Love 'alignment' as
'the force' of Source is with us.
This process is peaking through December 21, 2012,
and the energies of Earth are being 'repolarized'
with a cosmic reboot of the 'Omega Cycle'
known in ancient cosmic-oriented religion
as 'Precession of Shift" (Great Cycle):

FROM: "Alpha - Patriarchal materialism"
(Ownership to control for POWER)
TO: "Omega – Matriarchal spiritualism"
(Nurturing cooperation for LOVE)
WITH: "Christhood – Wise dominion"
(knowing the POWER of LOVE).
<![if !vml]>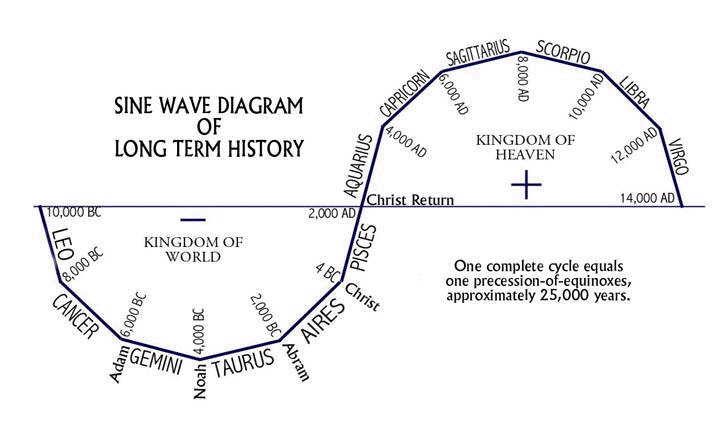 <![endif]>

Is the 2nd Coming of Christ in the collective Conscience of humanity a Dimensional Shift that characterizes mass awakening? Will this be the end of 'time' as we have known it? Would you agree that this BIG SHIFT means, THE BEGINNING IS NEAR beyond the stuck consciousness that does what it has always done yet expects different results? That insanity is wearing thin as the veil thins rapidly to 'O-Point'.
Terrence McKenna intuits the upcoming Dec. 21st event
extremely well, very 'prescient', at Timewave Zero,
explaining how the accelerated rate of change
with humanity's conscious evolution is now
reaching "O-Point" (Omega Point).
The 'SHIFT' is going mainstream with a sequence of 'trigger events' in the Source Field (see: 'Believe It Or Not').

"The human adventure has become the cutting edge of cosmic destiny."
~ Terence McKenna at: 'Timewave Zero' (2nd video down from the top)
The implications for 2012 are indeed profound.
'Disclosure' is going mainstream very quickly.
Mass awakening is arriving where we began...
as if discovering 'fire' for the 2nd time!
"In that very moment, when free energy (zero-point energy) will be given away to Humanity, it will not only be meant to use as an absolutely free, environment friendly, perpetual working energy to use in each and every industry, transportation, or private homes, but much more; chains of Humanity will be broken FOREVER. A New Era of Freedom, Friendship, Understanding and Love will rule, opening a New Golden Age for people of the Earth and beyond..." ~ Nikola Tesla
"If these new energy technologies were to be set free world-wide,
the change would be profound; it would affect everybody and
would be applicable everywhere. These technologies are
absolutely the most important thing that has happened
in the history of the world." ~ Brian OLeary,
Physics Professor, NASA Astronaut
"This information coming out would completely change geo-political
power more than anything in human history."
~ Steven Greer, Disclosure and Orion Projects
"We would have universal abundance."
~ Adam Trombly, New Energy Inventor

This massive paradigm shift 'metamorphosis' will be much easier for people who are more right-brain dominant (intuitive), rather than the more rigid left-brain dominance of those whose mind is made up with preconceived notions of an inflexible nature. This may seem paradoxical, but so it is with 'Nonlinear Perception' of a multi-dimensional 'knowing' that will transcend the limited "lock-step" (in-the-box) left-brain 'logic' that is stuck in 3-D 'paradigm paralysis'.
It is abundant
CONSCIENCE
in our collective consciousness
that will naturally liberate
E
ffective
S
ensory
P
erception
with the enlightened Power of Love as will culture
social conscience in our social networks…

"making the darkness conscious."
As thus it is a Higher Power that makes the inordinate love of power accountable to the ordained Power of Love. In other words, there is no political right that is morally wrong; there are only divine solutions to human problems. Human solutions – lacking a moral compass – merely compound human problems.
"Highly evolved people have their own conscience
as pure law."
~ Lao Tzu