IN BRIEF: James had a recent February interview on the Weekend Today Show in Australia. He is a unique person, who seems to shun the fancy cloths for something more comfortable. He runs the ECETI Ranch at Mount Adams, Washington, which is famous for its nightly UFOs and orbs. Although the mountain sky is busy with UFOs, the aliens don't seem interested in direct contact, but have met him personally on a few occasions. Perhaps direct contact with humans today is forbidden for some reason. Anyway, I wish I had been to his live talk that he had for fans in Melbourne. Would have been cool to hear him in person, his thoughts, his experiences at the ranch.
This week is special in the annals of Corey Goode testimony, in that, hitherto unrevealed data is being released in relation to his trip to Inner Earth in September of this year.

His report

of that journey sent waves through the awakening community, and many have been waiting for part two. Although it has yet to be released, the following episode finally provides readers with some more of the story.


The Library of this one particular Inner Earth group is vast and contains a huge number of literary works, some of which were ancient scrolls, tablets, and bound books. There were also modern works there as well, some of them so new that walking through the library could easily seem like one was perusing through a repository on the surface.

###

Common Sense for Common Folk Worldwide

More than half the 7+ billion people on Earth are now
connecting with a new social awareness of ourselves
with the new instant-everywhere-interactive Internet.

Common sense would say that our new global village
sensibilities require the Family of Mankind to wise up
as kind men and women who rise up to embrace the
Vision of Virtue and Valor for our common VICTORY
that highlights some uncommon wisdom regarding a
new 'common sense' in global social networks that is
up-wising and uprising in our individual and collective
Conscience - Universal Rights in the Global Sphere -
with more heart coherence and thus mind congruence
along more enlightened 'lines' framing the Constitution


of cosmic-universal <![if !vml]>


<![endif]><![if !vml]>

<![endif]><![if !vml]>

<![endif]> as "Law of the Angles of'
G.O.D." (Geometric Ordered Divinity) as represents


"Language of the Angels of Love" (our better nature).

Keep the Faith – <![if !vml]>


<![endif]><![if !vml]>

<![endif]><![if !vml]>

<![endif]> is for giving.
Hold the Vision – Our Highest & Best.
Embrace the Virtue; Our Co-Creation.
And Claim the Victory to
Make it So!

For Our Conscientious
Evolutionary Ascent,


Bottom Line - The Highest Good.
The New Currency for the Next Economy
Based on the Currency of Conscience

As general enlightenment surges in our global conscience
- as foreordained for this extraordinary time of shift -
now is the time for all enlightened Netizens to
wise up and rise up to claim the victory
of light and love in a 'Unity State'
as 'Universal Solidarity' with
'United Sovereigns' of
our global village;
All of 'US'.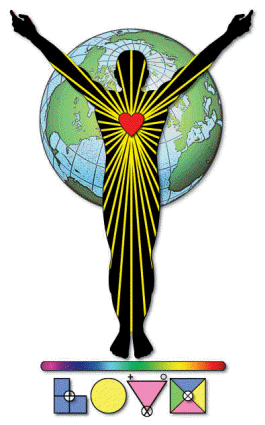 Full Spectrum TeLeComm
Look to See-Know to Be
the Nature of '5-D TLC'
for 'TeLeCommunity'
"There is a tide in the affairs of men which,
taken at the flood, leads on to fortune;
Omitted, all the voyage of their life is
bound in shallows and in miseries."
~ William Shakespeare, Julius Caesar
It is pure intention – the will of, by and for
G.O.D.~<![if !vml]>


<![endif]><![if !vml]>

<![endif]><![if !vml]>

~Creator~Source 'I Am'<![endif]>
that focuses attention with the whole mind
and full love retention for one's ascension
in that rare dimension of comprehension
beyond "dark-side" (dimwit) reprehension.
We have a CHOICE for 'Evolutionary Ascent'
with enlightened <![if !vml]>


<![endif]><![if !vml]>

<![endif]><![if !vml]>

<![endif]> as law and language
at the heart of 'interactive mass TeLeComm'.