The Past Week in Brief:
The big news published this week at
"On the Threshold of a Golden Age"
is that clean free-energy technology
is going into production worldwide.
The implications are mind-boggling.
Also, we saw the 'Shock and Awe'
blitzkrieg of Russia's jets in Syria
which devastated terrorist targets
like tornados through a trailer park.
China has joined Russia in Syria.
Cuban troops have also arrived.
On Oct. 12th, it was reported that
the US air-dropped tons of ammo
for the ISIS terrorists
.
On Oct. 13th, it was reported that
Russia bombed the ammo dumps
of the ISIS terrorists
.
With world news reporting that the
US bombed a hospital and that the
ISIS crisis was created by the US
to remove Assad (regime change),
US media diverted attention to the
violence in Israel over oppression
in their Gaza concentration camp.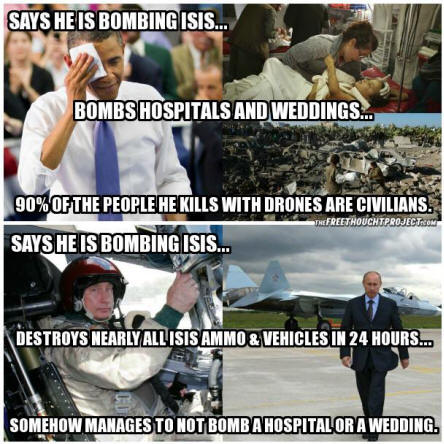 US destabilization of the Mideast,
with millions of refugees flooding
Europe, is the bad fruit of the old
military-imperial agenda of ruling
by Divide & Conquer, but now for
the power to profit of Wall Street.

It's the same corporatocracy intent
of the medical-industrial complex
as destabilizes the immune system
with GMO's, glyphosate, vaccines,
and other state-sanctioned poisons
to
make a killing
treating disease.
With disease and cancer exploding
in the population, Americans turn
to a corrupted health care system
with drug side-effects compounding
the toxic overload destabilization of
healthy immunity against all disease.

Following the money leads to the
banksters and the political circus
where the big money goes to the
candidate most likely to support
endless war, disease and death.