There have always been prophets of doom and prophets of salvation.
They both reflect choices we make to either be in harmony with the
natural order of the universe… G.O.D.-<![if !vml]>

<![endif]><![if !vml]>

<![endif]><![if !vml]>

<![endif]><![if !vml]>

<![endif]>-SOURCE … or not.

As you may know, I've written many articles discussing these times as the
end of time as we have known it. With the accelerated rate of change seen
in the instant-everywhere and interactive Internet revolution, a new social conscience is emerging in our 'global village' social networks.
This revolution in higher consciousness is a challenge for deeply entrenched corruption in public organizations that do not serve the social purpose of, by and for the Family of Man in a global village. I refer to pathological predatory organizations that profit from the creation of war, disease and destruction of our planetary life-support systems.
One way or the other, we'll soon see the end of that insanity. The prophets of salvation explain how we can have a millennial golden age on Earth with liberation of suppressed free energy technologies along with liberation of suppressed holistic healing breakthroughs and also liberation of suppressed capabilities for global interactive mass-to-mass TeLeComm.
Heaven knows that mankind could 'turn around' from the self-destructive path that is destroying DNA integrity – a sick future – that is killing us. But first, there must be a purging of corrupt organizations, one way or the other. Ancient prophets referred to this as the 'end times', or as Hopi prophecy referred to it, "The Great Purification"… with Great Gratitude.
<![if !vml]>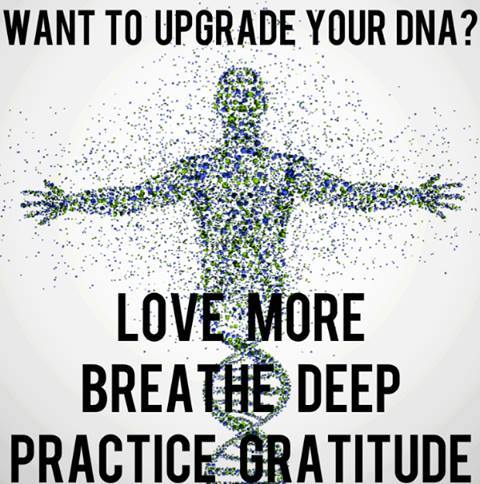 <![endif]>

Earth as a whole living organism is ready for systemic 'reboot'.
Humanity's desecration of Mother Earth is soon about to end.
My great hope has always been that humanity would wake up,
wise up and rise up, one way or the other; selective judgment.
When government itself is outside the Great Law which is common law
based on the common sense of natural laws of universal <![if !vml]>

<![endif]><![if !vml]>

<![endif]><![if !vml]>

<![endif]><![if !vml]>

<![endif]>,
a Higher Power is ordained to purge the corruption and resurrect
civility with the Constitution of Conscience of, by and for
ALL of "US" (United Sovereigns of Earth).
The current crisis in the collective consciousness of humanity has resisted
and even resented the prophets of salvation. Many have even preferred the message of the prophets of doom. Whereas the man of God-Love-Source sees the divine order of Creation in all things, the prophets of doom bring their worst fears upon them with utter contempt for their own negative judgment... a form of self-hatred which tries to make everyone as miserable as they are… failing to "See the Good and Make it So!"
Fortunately, we can be thankful that there is a doctor in the house. The 'Great Doctor' is a manifestation of the 'Great Spirit' that promises salvation to the extent we conceive, believe and achieve the vision of virtue and valor for the victory of our evolutionary ascent 'home':
The homeward trek is revealing
the path for our holistic healing
as an opportunity so appealing
with our enlightenment prevailing
and the soul's protective sealing.
~ Ascent Matters
In the larger cosmic scheme of things, thanks giving is the attitude of gratitude that blesses each moment with wonder and awe in 'The Creation'
which is co-Created moment-to-moment. With sufficient momentum, individually and collectively, this naturally becomes a self-fulfilling prophecy in the collective consciousness of global humanity.
On Thanksgiving Day, 2013, Comet Ison comes nearest the Sun. It was recently reported to me by a member of the council of Hopi Elders that they believe that Comet Ison is the prophecy of the 'Blue Star Kachina', the harbinger of the 'Red Star Kachina' known as 'Nibiru' or 'Planet X'.
Other experts on this subject are adamant that
Comet Ison IS Nibiru… see the videos below.
This may be an indicator of what we will experience on Thanksgiving Day. This may be far different than we expected, yet far better than we ever hoped for, i.e. the 'turning point' for the collective consciousness of the Family of Man towards 'Universal Solidarity' – a 'Unity State' – of, by and for all of 'US' as represents the 'United Sovereigns of Earth.
Mother Earth is groaning with the misqualified energies of doom and gloom in the collective consciousness of humanity and the morphegenic grids of the Earth body. An unprecedented devastating hurricane recently decimated the Philippines. This last week, seven volcanoes erupted in six countries within hours of each other. And global earthquake activity has been increasing in frequency and magnitude.
Something BIG is going on that is NOT being reported in
the mainstream media. It challenges our normalcy bias
which means we don't expect it and can't even see it
even when 'Signs of the Times' scream 'Red Alert'.
One of the things NOT being reported is what happened to Mars on Oct. 6-7th when there was a massive plasma discharge between Comet Ison and Mars which lit up like the head of comet. See for yourself; watch this video:

In order to prevent panic, the prevaricating press is
calling this the comet event of modern history,
but little more than a great light show.
So what happens if Ison gets 'charged up' while passing the Sun on Thanksgiving, and then sling-shots around to rapidly pass Earth in mid-December-to-January? [update as of Nov. 30th - see this NASA video of Ison passing the Sun and getting brighter HERE]
Connect the dots. This looks like the real deal folks.
The first rule of predictions is to always
be mindful of them but to always
let conscience guide you;
selective judgment.
There is a free-will factor in the collective consciousness of global humanity that creates a prayer field of expectation and anticipation that either co-creates our highest and best future through self-correcting conscious evolution as 'self-elevation' (salvation)… or if faithless fear is stronger than fearless faith, our expectation and anticipation of doom and destruction can bring our worst fears upon us as ordained by the Great Law of cause and effect… getting what we 'ask for' whether we know it or like it or not.
Sometimes the prophets of doom appear wrong
because people sometimes self-correct and thus
turn-around or otherwise reverse the trends that
were leading to their inevitable self-destruction.