The 2017 End of Illusion Series
This is Part III on Global Reset.
Part II is HERE.
Part I is HERE.
May 20, 2017

Trump's Global Reality TV Show and the
Discernment 'X-Factor' for Global Reset
Multiple Choice: Why Is Truth So Obscure?

A – Deception and diversion in Big Media.
B – Bread and circuses on the boob tube.
C – Deep State opposing the whole truth.
D – All the above.
The process of empowering personal & planetary
wisdom with love requires the first gift of the Holy
Spirit - the 'Great Spirit' known as 'discernment' or
intuitive knowing as Effective Sensory Perception,
also known as Common Sense Unity Conscience
or Christ-like fundamentals of 'Universal <![if !vml]>

<![endif]>

<![if !vml]>

<![endif]><![if !vml]>

<![endif]>'
at the heart of wholEness in 5-D consciousness.

We can only do as well as we
KNOW BETTER
with well-informed choice.

Systemic global reset of our core social, political and
economic system is rapidly accelerating for a simple
reason. General enlightenment with the Internet has
increased our awareness of tools and processes for
organizing all information IN FORMATION, formatted
in such a form as will optimize well-informed choice
for upgrade or our Five Core Internet Freedoms plus
for global holistic health care with Global TeLeCare.

The 'X-Factor' determining this opportunity is
DISCERNMENT

Conceive IT and Believe IT to Achieve IT;
Innernet Technology,
harnessing the techniques of self-correcting
self-mastery for self-elevation of an upward-
mobile, personal-planetary 'salvation' nature
via TLC at the heart of high touch high tech.

AFFIRMATION - affirming pure intention - 'I AM';
CONFIRMATION with focused attention - 'I CAN;
DETERMINATION of <![if !vml]>

<![endif]>

<![if !vml]>

<![endif]><![if !vml]>

<![endif]> retention - 'I WILL;
INTEGRATION - integral 5-D ascension - 'I DO'.

Seize THE VISION, Embrace THE VIRTUE,
Make THE VOW, and Claim THE VICTORY.

DISCERNMENT IS THE MOTHER OF
all other gifts of the wholEness spirit.

The fiery prayer of intent for discernment is
often the prelude of progressive revelation.

Pure intention focuses attention with love
retention for ascension in a dimension of
omni-present non-linear comprehension.

Spherical Consciousness:
The '

' in the <![if !vml]>

<![endif]>

<![if !vml]>

<![endif]><![if !vml]>

<![endif]> Model

You must step into the Circle of WholEness
to Be Now Made Whole - an understanding
that the wholEness you conceive & believe
is the holistic holy wholEness you achieve.

WholEness that conceives 'G.O.D.' as the pure
Geometric Ordered Divinity framing all Creation
- the fractal order of the holographic universe -
is the wholEness that conceives <![if !vml]>

<![endif]>

<![if !vml]>

<![endif]><![if !vml]>

<![endif]> now as
a 'frame of reference' for universal law language;
a universal interface for interactive mass-to-mass
TeLeComm with Web 3.0 Heartware cyberEthics.
A Process of General Enlightenment with
Conscious Evolution Revelations:
Raising the 'Gold Standard' for Global Reset
(in the image & likeness of G.O.D.-<![if !vml]>

<![endif]>

<![if !vml]>

<![endif]><![if !vml]>

<![endif]>)
to qualify 'TLC'; the heart of TeLeCommunity
with TeLeConscience and 'TeLeCare' in our
global social TeLeCommunication networks.

FOR TLC DISCERNMENT
as the gold standard for
Tender Loving Care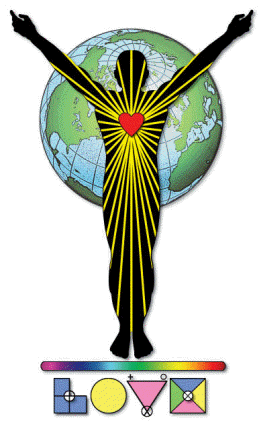 Full Spectrum Enlightenment
with Law of the Angles and
Language of the Angels
To <![if !vml]>

<![endif]>

<![if !vml]>

<![endif]><![if !vml]>

<![endif]> with all your strength, mind, heart and soul,
and your all-connected Netizen neighbors as thyself.

- Internet 'Rights'


- Public 'Sphere'


- 'Co~Creating'


- TeLeComm
All "Rights" (

) Well "Rounded" (

) & "Synergized" (

)
with the healthy, holistic & otherwise holy "whole" (

)
in five core dimensions of cosmic-universal <![if !vml]>

<![endif]><![if !vml]>

<![endif]><![if !vml]>

<![endif]><![if !vml]>

<![endif]>.
Beyond the lock-step, linear, left-brain, letter of the law
is appreciation of the nonlinear spherical spirit of the law
- atonement for the sense of separation via atonement -
that IS REAL for our conscientious evolutionary ascent,
gathering the tribes of IS REAL in 'AMERICA' (anagram)
for the 'I AM RACE' globally ~

~ as a Unity State (US).
Individual Collective Co-Creation Integration

Linear Nonlinear Trinity Four-in-One
Left-brain Logic + Right-brain Intuition + Coherence = Congruence
Universal RIGHTS + Public SPHERE + SYNERGY = WHOLENESS
Self Rule Self Knowing Self Healing Self-Mastery
Government Education Health Care Economy
Spiritually Mentally Emotionally Physically
Qualifying 'TLC' with a universal <![if !vml]>


<![endif]><![if !vml]>

<![endif]><![if !vml]>

<![endif]> for
interactive TeLeComm, TeLeCare and
TeLeCommerce with the currency of
ABUNDANT CONSCIENCE
The 2017 Vision Alignment Project
Alignment with the form and frequency of
cosmic-universal 'Source' <![if !vml]>


<![endif]><![if !vml]>

<![endif]><![if !vml]>

<![endif]>-in-action

at the heart of systemic global co-creation.
The 2017 Paradigm Shift Process
An upward spiral that is going 'viral' with
ascension intention for "self-elevation"
(salvation) as a self-fulfilling prophecy.
The 2017 Heartware Project
The Vision-Mission coordinates for
raising the gold standard's value
at the heart of the Next Economy.
THE AQUARIAN MANDATE:
In the larger scheme of eternal progression
there's common law, patterns of perfection,
and common language for inspired direction
centering love within... so as we all enter in,
we find a unity state with one clear mandate:
either we optimize unity or we're insensate.

The Family of Mankind in a global village;
a 'Unity State' with 'Universal Solidarity'
of, by and for "US" (United Sovereigns);
the global-connected Netizens of Earth.
Geometrizing the Source Code for all of
'US'... United Sovereigns of Earth
rchetypes of
<![if !vml]>

<![endif]><![if !vml]>

<![endif]><![if !vml]>

<![endif]><![if !vml]>

<![endif]>
;
B
eatitude
B
enefits
of
B
eing
<![if !vml]>

<![endif]><![if !vml]>

<![endif]><![if !vml]>

<![endif]><![if !vml]>

<![endif]>
;

C
onscious
C
oordinates
for

'
C
'ing via
<![if !vml]>

<![endif]>
+
<![if !vml]>

<![endif]> =

<![if !vml]>


<![endif]>
<![if !vml]> ...in all 4 directions of the
Creative Ascent P

rocess




towards the

CAP

stone of


<![endif]>
<![if !vml]>

<![endif]>

defining, refining, combining & 'shining'

COMMON SENSE CONSCIENCE
with the sense of one-universal
<![if !vml]>

<![endif]><![if !vml]>

<![endif]><![if !vml]>

<![endif]><![if !vml]>

<![endif]> as common law
and the language of
our better-kind
nature.
This Conscience Currency
is dedicated to the
One Eye...
<![if !vml]>

<![endif]>
<![if !vml]>

<![endif]><![if !vml]>

<![endif]><![if !vml]>

<![endif]><![if !vml]>

<![endif]>
"To understand the nature of God, it is necessary only to know
the nature of love itself. To truly know love is to know and
understand God; and to know God is to understand love."
~ Dr. David R. Hawkins, "The Eye of the I" (pg. 88)
"One individual who lives and vibrates to the energy of
pure love and reverence for all of life will counterbalance
the negativity of 750,000 individuals who calibrate at
the lower weakening levels."
~ from the decade-long research with millions of tests
utilizing behavioral kinesiology, documented in
POWER VS. FORCE
- The Hidden Determinants of Human Behavior
by Dr. David R. Hawkins , M.D., PhD in Psychology
~~~~~~~~~
Thanks for your support of these writings
while supporting your optimal health at:
UltraMedics Services.
~ Christopher