North Magnetic Pole Moving Due to Core Flux
December 24, 2009, National Geographic
http://news.nationalgeographic.com/news/2009/12/091224-north-pole-magnetic...
Earth's north magnetic pole is racing toward Russia at almost 40 miles (64 kilometers) a year due to magnetic changes in the planet's core. Newly analyzed data suggest that there's a region of rapidly changing magnetism on the core's surface, possibly being created by a mysterious "plume" of magnetism arising from deeper in the core. And it's this region that could be pulling the magnetic pole away from its long-time location in northern Canada. The magnetic north pole had moved little from the time scientists first located it in 1831. Then in 1904, the pole began shifting northeastward at a steady pace of about 9 miles (15 kilometers) a year. In 1989 it sped up again, and in 2007 scientists confirmed that the pole is now galloping toward Siberia at 34 to 37 miles (55 to 60 kilometers) a year. A rapidly shifting magnetic pole means that magnetic-field maps need to be updated more often to allow compass users to make the crucial adjustment from magnetic north to true North. Also, nobody knows when another change in the core might pop up elsewhere, sending magnetic north wandering in a new direction.
<![if !vml]>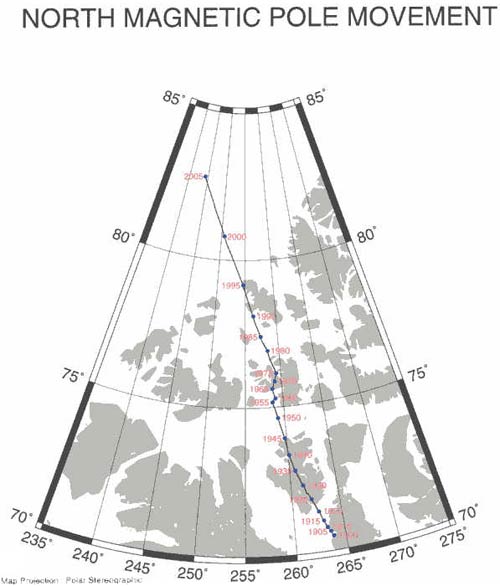 <![endif]>
A PHYSICAL POLESHIFT CANNOT OCCUR BY ITSELF.
IT CAN ONLY OCCUR WHEN A LARGE PLANETARY OBJECT
PASSES CLOSE TO EARTH AND CREATES A MAGNETIC
WAVE THAT SHIFTS THE CORE OF THE EARTH
THE MAGNETIC POLE SHIFT IS UNDERWAY
As Reportd by Bill Deable (audio)
24 September 2008) From Project Avalon
Click here to download