The Flu Vaccine is
CAUSING FLU

PREFACE NOTE:
There is a long history of the U.S. government testing radiation and/or biological warfare agents
on US troops and civilian populations WITHOUT their informed consent.
The mainstream "embedded" media does not report this for obvious reasons;
talking heads would roll. But a few google searches will reveal the truth of
this following article, a MUST READ.
PLEASE FORWARD FREELY TO SAVE LIVES.
~ Christopher
Article follows:
Evidence emerges that seasonal flu vaccine
increases risk of H1N1 swine flu
http://www.naturalnews.com/027102_vaccines_H1N1_flu_shot.html


<![if !vml]>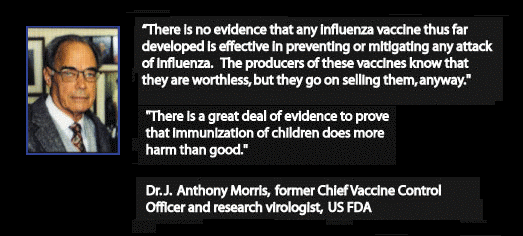 <![endif]>
<![if !vml]>

<![endif]>

Bottom Line

Immunity Fortitude Beats Flu Fear
Your best defense against sickness is a strong immune system.
Vitamins A, D and C are huge for viral immunity and flu prevention. The other most critical supplement is a breakthrough "SBO" product called "Prescript-Assist" that cleans up the biological terrain of the body by detoxifying the colon which feeds the whole body. A healthy non-toxic gut leads to non-specific immunity against all disease.
The other most important supplement for a high white blood count and strong immunity is the Swedish Pollen Extract.
Build healthy immunity to prevent systemic disease.
For a 5% discount on Preparedness Supplies,
go to www.aafoodreserves.com
TO YOUR HEALTH